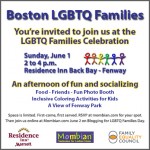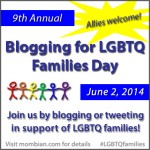 Thanks for participating in Blogging for LGBTQ Families Day. Submit your posts below, and I'll add them to the master list for all to see on June 2. All LGBTQ bloggers and allies are welcome!
Please grab an event image at right and share on your own blog, Facebook, Twitter, etc. before the event to help spread the word! (Click images for full-size versions.)
If you're in the Boston area, you're also invited to attend the LGBTQ Families Celebration at the Residence Inn - Back Bay the day before Blogging for LGBTQ Families Day: Sunday, June 1, from 2 to 4 p.m. Please RSVP here as space is limited. The afternoon of fun and socializing is sponsored by Residence Inn by Marriott in conjunction with Mombian and the Family Equality Council. Come meet other LGBTQ families in the area and enjoy refreshments with a view of Fenway Park. There will be a fun photo booth and inclusive coloring activities for kids.
Sign up for the Mombian daily e-mail digest!