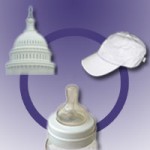 Here are some of the recent stories I haven't posted about separately—covering education, being a single gay dad, fighting for adoption rights, and Mitt Romney's opinions about lesbian and gay parents.
Schools and Education
Bronwyn Harris, a writer, editor, teacher and tutor in California, writes at Teaching Tolerance about "Affirming Many Variations of Family" in the classroom.
Several parents in Utah are protesting their children's elementary school's fundraising partnership with Chick-fil-A. The fast-food chain has donated millions of dollars to anti-LGBT groups, including the Family Research Council, named a hate group by the Southern Poverty Law Center.
Family Profiles
Derek Nicoletto at HuffPo tells of "Being a Single Gay Dad." Reminds me that "same-sex parents" doesn't really cover all of us.
Politics and Law
Two lesbian moms in Michigan, who are already challenging the state's ban on adoption by unmarried couples, are now amending their lawsuit to challenge the state's constitutional amendment against marriage of same-sex couples, the Detroit News reports. The women, April DeBoer and Jayne Rowse, have three special-needs children.
NPR speaks with two lesbian moms in Columbia, Ana Leiderman and Veronica Botero, who are challenging their country's ban on adoption by same-sex couples.
Want to know Mitt Romney's views on gay and lesbian parents? Andrea Poe at HuffPo has the rundown on his varying statements over the years. Boston Spirit (via The New Civil Rights Movement) also reports that when he was governor of Massachusetts, he once said to plaintiffs in the landmark case that won marriage equality in Massachusetts, "I didn't know you had families."