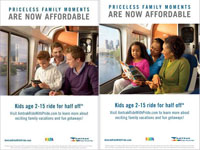 Amtrak has just launched a lovely new advertising campaign featuring lesbian moms and gay dads. The company has marketed to the LGBT community for several years, but chugs into new territory with its latest two ads that focus on same-sex parents.
One features two moms and their daughter; the other, two dads and their son, Metro Weekly reports. The ads have been used in an e-mail campaign directing people to Amtrak's "Ride with Pride" LGBT niche site. It is unclear if they will also appear in print, or if they will be in mainstream publications as well as LGBT ones.
Amtrak joins Children's Tylenol and J.C. Penney as organizations that have recently included lesbian and gay families in their marketing or advertising efforts. I know some people are cynical about being the target of advertisers—but my own opinion is that as long as the company also walks the walk with its policies and philanthropy, I'm happy to have the visibility that advertising and marketing bring to our families.
I'm especially pleased that in the Amtrak ads, the moms and their daughter are people of color, a demographic rarely seen in most media about lesbian and gay parents—despite their prevalence in the real world. (J.C. Penney's Father's Day ad shows what appear to be two white dads with children of color, though.)
Now I just need the time to take a trip somewhere!