The following is a guest post from Meg, who works on the Children's TYLENOL® brand team at McNeil Consumer Healthcare, Division of McNEIL-PPC, Inc. In this post, she writes about her thoughts on the brand's support of LGBT families and what it means to her as a lesbian.
My wife and I just bought our first home together, nestled in Cherry Hill, NJ. It's been a lengthy process moving in, with its ups and downs, a ton of boxes, and weeks of unpacking, but every moment has been worth it. For both of us, it is such a monumental point in our lives. And now we've reached the stage in our journey where we're considering starting a family.
All of this has made me realize how glad I am to work at a company like McNeil. My wife is able to receive all of my work-related benefits, just as any other employee's spouse would, and hopefully some day soon we'll have a child that will be covered as well.  The workplace is also incredibly LGBT supportive.  I am a campus leader of our LGBT employee resource group, and for seven consecutive years, the company has received a perfect 100% score on HRC's annual Corporate Equality Index.
And now, I could not be more thrilled to be working on the Children's TYLENOL® brand.  I joined the marketing team seven months ago and learned that the brand is making significant efforts to support LGBT families.  During my time in this role, I am responsible for the LGBT program, with support from my colleagues, and it's been incredibly meaningful.  We all know that there can be extra challenges for LGBT parents and their children, so I'm proud that the work we're doing can help make a difference.
So let me tell you about some of the fun stuff this entails.  First, the makers of Children's TYLENOL® have become a National Corporate Sponsor of Family Equality Council, the nation's largest LGBT family organization.  I can't tell you how inspiring it was to attend my first Family Equality Council event in April of this year in New York, and to hear LGBT parents talk about their experiences.  It was amazing! These are truly motivational and meaningful stories.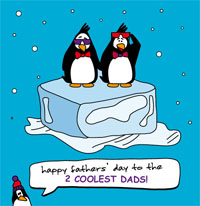 The brand also participated in the Midwest Family Equality Conference where representatives from the White House addressed the audience and talked about the need to support all families.  Soon thereafter, our team produced a series of Mothers' Day and Fathers' Day e-cards with Family Equality Council. This project was particularly heartwarming for me.
Heading into July and August, our plan is to sponsor Family Week in Provincetown, MA. Our team has really enjoyed brainstorming on ideas like giving away beach pails and shovels for sandcastle building, organizing a day of t-shirt tie-dying and setting up a digital photo booth at the annual clam bake to capture memories of the summer vacation.  If only we could be kids again!
It could not be a more exciting time to be working with LGBT families, and I love that it's now a significant part of my job.  And when the time for parenthood comes, I take comfort in knowing that websites like Mombian and organizations like Family Equality Council are there to support my wife and me on our journey.
Wishing all LGBT families a wonderful summer of PRIDE,
Meg