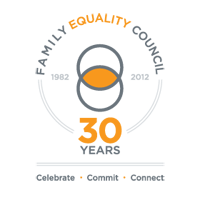 The following is a guest post from Brent Wright, father of two and Director of Programs at Family Equality Council, a nonprofit organization that connects, supports, and represents the one million parents who are lesbian, gay, bisexual and transgender in this country and the two million children they are raising.
I truly believe that we are all the sum part of all our childhood experiences.  Every backyard BBQ and schoolyard tussle—every campout under the stars and timeout in the principal's office—every childhood friendship and teenaged broken heart.
That's why Family Week in Provincetown matters so much to my family and to families like mine.
It's a time, a place and an experience that hopefully will become part of our children.
That's especially important for kids with LGBT parents.  We all know about what they sometimes experience.  It's difficult being the one kid not invited to the birthday party because you have two dads or feeling awkward because your mom has to come to the "Dads and Daughters Tea."
As parents, we can't always shield our children from these situations. In truth, the experiences teach them important lessons about love, friendship, disappointment, self-esteem and even resiliency.
But we hope and pray that for every memory of a childhood heartache, they grow up with many more positive memories of childhood.
This month, we have an opportunity to create those memories for our children.
Family Week has been around for 17 years.  What began as a small group of LGBT parents sharing a picnic on the beach has evolved into the largest vacation gathering of LGBT families in the country.
And talk about making memories?
Family Week features an entire week of activities for all generations including youth adventures, arts and athletics camps, dances, campfires, happy hours for the grownups, bouncy houses, arts exhibits, film screenings, and over fifty other community activities.
This year, we're proud to announce an even deeper experience for our kids thanks to our sponsor at the makers of Children's TYLENOL®. Thanks to their generous contributions and involvement, we're able to expand our offerings and make the entire week more fun for all of our families. Overall, it's an exciting corporate partnership for us, helping to make a memorable week all the more unforgettable.
By week's end, I'm confident that my children and all our children will have memories that will last a lifetime.
Wishing you and yours the best.
From our families to yours,
Brent