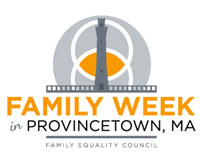 Tomorrow, July 28, marks the start of Family Week, the annual event in Provincetown, Mass. hosted by the Family Equality Council for LGBT families and our children. I won't be there in person this year, alas, but in honor of the event, I'll be bringing you two special guest posts next week.
One is by Brent Wright, father of two and Director of Programs at the Family Equality Council. The other is by Meg,  who works on the Children's TYLENOL® brand team at McNeil Consumer Healthcare, Division of McNEIL-PPC, Inc. She writes about her thoughts on the brand's support of LGBT families and what it means to her as a lesbian. Children's TYLENOL®  is a sponsor of Family Week 2012.
I should disclose that I was not paid anything by either organization to run these posts. I'm happy to support Family Equality, a nonprofit working towards equality for all families. Children's TYLENOL® is not part of a nonprofit, of course (it's part of McNeil Consumer Healthcare, Division of McNEIL-PPC), but I'm also happy to showcase one of the few companies really reaching out to target not just the LGBT market, but LGBT parents in particular—and doing so in a way that reveals an understanding of our community and a willingness to work with us for our mutual benefit.
Look for the posts next Monday and Tuesday, and in the meantime, have a great weekend!