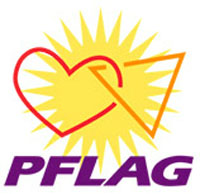 A very happy 40th birthday to PFLAG (Parents, Families and Friends of Lesbians and Gays)—the nation's largest grassroots-based non-profit for families, friends, and straight allies of LGBT people. Not everyone is pleased to hit middle age, but I have to imagine the folks at PFLAG are pretty excited.
I know most readers of this blog are on the other side of the parenting fence—LGBT parents of not-necessarily LGBT children. PFLAG does so much for our community and our families in general, however, that it only seems right to wish them the very best.
Today also marks the kick-off of PFLAG's milestone 40th anniversary year campaign, "PFLAG Then & Now…40 Years of Family and Ally Voices," which the organization is calling "a yearlong look at where PFLAG started, all that has been achieved, and all that is still to be accomplished to achieve full equality for LGBT people." The campaign "will also demonstrate how PFLAG's unique family and ally voice has been, and will continue to be, a crucial part of the LGBT movement."
The campaign begins with a bit of history:
40 years ago this week, PFLAG founder Jeanne Manford marched at her gay son Morty's side in New York's Christopher Street Liberation Day Parade after learning of an assault on his life, due to his sexual orientation, while police stood by and did nothing to help him. She was galvanized to take action through a simple act: walking side by side with him in the parade, carrying a sign that read "Parents of Gays Unite in Support for Our Children." The response to Manford was overwhelming and she was begged by participants to speak to other parents and families. Through the next year, this grassroots movement spread like wildfire and in 1973 Manford, along with a small group of dedicated parents, founded PFLAG, an organization for parents, families, friends, and straight allies to unite with LGBT people in a shared mission of support, education, and advocacy. That this movement spread so quickly—long before the age of the Internet and mobile phones—was clear evidence of the need for an organization like PFLAG.
PFLAG now has more than 350 chapters and 200,000 supporters across all 50 states.
For more details of PFLAG's history, see Audrey Bilger's piece at the Ms. magazine site. Bilger also calls on people to send cards of thanks to 93-year-old Jeanne Manford, "for being such a good mother to us all." Send e-mail to thankyoujm@pflag.org or paper cards to:
Thank you, Jeanne Manford!
c/o PFLAG National
1828 L Street NW, Suite 660
Washington, DC 20036
It's worth noting that another LGBT parenting organization, the Family Equality Council, has also been celebrating a milestone birthday this year. It's 10 years younger than PFLAG, but still a respectable 30 years old. Never let it be said that LGBT children or parents are something new!