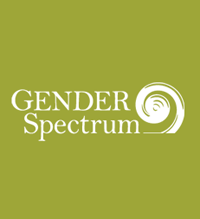 I'm passing along this information about the Gender Spectrum Family Conference, a yearly gathering for gender nonconforming children, teens, and their families. I'm not involved in the organization myself, but I've heard many good things about it.
And no, of course not all LGBT parents have LGBT or gender nonconforming kids—but some do. I also know that we LGBT parents sometimes also act as resources in our communities (online or off) for non-LGBT parents of LGBT or gender nonconforming kids—so now you can pass on information about this event, should the need ever arise. For some families, resources like these are life savers, literally.
The 2012 Gender Spectrum Family Conference

July 13 – 15, 2012, in Berkeley, CA

The Gender Spectrum Family Conference is a celebration of gender diversity for all children and teens.  A weekend gathering dedicated solely to the needs of gender nonconforming children and teens, their loved ones, and the community of professionals who surround them, it is an inspiring experience for all involved.  Whether you are a first time attendee or a returning attendee, check out this year's exciting offerings:

The Gender Spectrum Family Conference is a special place where you can:

meet other parents raising gender nonconforming children and teens
connect with various professionals supporting gender diverse young people
offer your gender nonconforming child the gift of meeting other children in similar circumstances
attend over 30 workshops for adults around relevant topics in the fields of medicine, mental health, education, the law, social issues, and more
allow your 5-8 year old a fun-filled weekend at Kids Camp
give your 9-12 year old a time to play and learn with other tweens
have your teen experience a unique weekend full of age-appropriate workshops and events solely dedicated the them and their peers
schedule one-on-one time at our Family Support Center with experienced professionals in the areas of medicine, mental health, the law and spiritual guidance

Our workshops and other programming are designed to support newcomers and experienced families alike.  Each year, the Gender Spectrum program offerings have expanded to meet the growing needs of families raising these amazing kids. For many parents and caregivers, the information and resources made available through our robust programming is a lifeline. Armed with new learning and perspectives, parents leave the conference with a renewed sense of purposefulness as they navigate the journey of raising gender nonconforming children. Both first-time and returning attendees should be sure to look at the Programming section to see the exciting new features of this year's conference!

REGISTER NOW for the 2012 Gender Spectrum Family Conference. 

Questions?  Please email us at info@genderspectrum.org or call us at 510-567-3977.