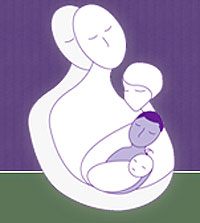 New results from the National Longitudinal Lesbian Family Study (NLLFS), the longest-running and largest study of American lesbian families, have shown that the lack of male role models "did not adversely affect the psychological adjustment of 17-year-old teens raised in lesbian-headed households." The findings directly address one of the key criticisms leveled at same-sex parents: that the lack of role models of both genders will somehow hurt children's well-being and development.
The 78 teens in the study, whose families have been studied by the NLLFS since before they were born, were asked in an online questionnaire, "Do you have an important male role model in your life?" If "yes," they were asked to specify "donor/biological father," "grandfather," "uncle," "sibling," "teacher," "friend," and/or "other."
They were then asked to assess themselves on on masculine and feminine traits and attitudes/psychological traits, using well-known, standardized psychological tests. Their mothers were also asked to assess their children's behavior.
Bottom line? "The NLLFS teens with and without male role models did not differ from each other in psychological well-being, and also did not differ on stereotypical feminine (e.g., understanding) and masculine (e.g., competitive) traits," according to a press release. The full paper was published in the June issue of the journal Gender & Society.
Lead author Henny Bos, Ph.D, University of Amsterdam, added, "No differences were found in the well-being of those with and without male role models, or between girls and boys. There was no empirical evidence suggesting that boys require a same-sex parent, or male role model, to develop a healthy psychological well-being."
On a broader scale, this means (my bold):
Our data suggest that it would be inappropriate for healthcare professionals or social service agents to assume psychological disadvantage to offspring of same-sex parents who do not have role models of both genders. Likewise, prospective same-sex parents who have concerns about the long-term impact of rearing children in single-gender-parent households should be advised that the quality of the parenting, rather than the sexual orientation of the parents, has stronger associations with the psychological adjustment of offspring. Finally, our data indicate no basis for denying child custody or restricting access to fertility services, adoption, or foster care based on family type.
The NLLFS also published results last January that found teens of lesbian moms were just as happy and well-adjusted as teens of straight parents.
One of the most interesting avenues for future research stems from the latest paper's observation that "in planned lesbian families, there is less adherence to strict gender roles." The researchers suggest:
To explore this interpretation further, future studies might compare gender roles of mothers in lesbian two-parent families with those of mothers and fathers in heterosexual two-parent families. A second step in such studies would be to assess how gender traits of parents are related to those of their offspring, and whether such associations in lesbian two-parent families might be different from those in heterosexual two-parent families.
Excellent question, and one I hope the researchers do explore. As I said in a previous piece on male role models, "it's … biased to assume all lesbians have masculine interests (or that gay men have feminine ones), but nor should we assume the opposite—that children without a male parent will learn no "masculine" skills at home."
None of this, of course, is to deny that there are many men who are excellent role models for children. I count my own father and brother among the important role models in my son's life. But there's a difference between acknowledging the importance of men in individual cases (especially to children they have committed to help raise), and generalizing to say that all children need them. Children need role models, period. A variety of them, it seems to me, is best. That variety, however, can manifest itself in many ways, gender being only one.
The researchers also note that most of the people in their study are white and middle class. When the NLLFS first began in the 1980s, it was very difficult to recruit a representative sample, they explain. Still, within the limitations, they have done what seems to me a careful analysis of the data and taken yet another chip out of the arguments against LGBT parents.