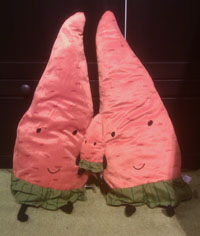 Yet another in my occasional but ongoing series on why I love IKEA. This adorable carrot family shows the key thing about a family is love and happiness. The gender of the parents doesn't matter—or can be imagined to  be whatever the child wants them to be. If you think that's not a deliberate attempt to be inclusive, check out their elevator doors, featuring a two-dad family (or a two-butch family, depending on your interpretation).
Yes, it's important for children to see images of families like their own, whether in terms of the number and gender of people or their race, ethnicity, or other characteristics. Not everything has to be studiously gender- and race-neutral. But it's also nice to have the occasional free-form toy that adapts to fit many different situations.
Other companies might have added, say, eyelashes to one carrot and a mustache to the other, creating a definite "mom" and "dad." IKEA chose instead to focus on a smiling, happy, family. That's really the root of the matter.
The only problem? After seeing these cute carrots, a child might not ever want to eat the real ones again.
Happy weekend, all!