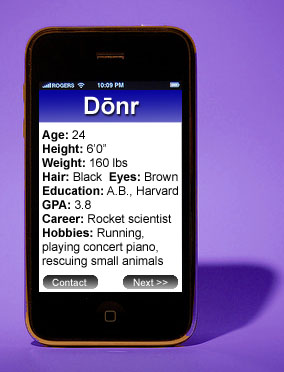 Lesbians seeking to get pregnant now have a new tool at their disposal: Dōnr, an app for mobile devices that lets women check out the credentials of potential sperm donors. Like Grindr, the social app that helps gay men find potential mates nearby, Dōnr lets lesbians access profiles of men in close proximity to see if they might be suitable candidates for providing genetic material.
"Lesbians have long used cutting-edge science to create their families," said Elizabeth Bean, the CEO of  Dōnr, Inc., herself the mother of twins. "It's time that the search for sperm donors catches up with the rest of the family creation process and takes advantage of modern technologies."
After their phone alerts them to the presence of a potential donor, lesbians can use the app's extensive profile information to check out details such as education, hobbies, health, and whether the man wants contact with the child. They can then connect with the man to talk in person.
Bean says her company will soon be coming out with several related apps: Bāstr, which allows lesbians to find the nearest LGBT-friendly fertility clinic, and Lawyr, which helps them find an attorney to do the legal paperwork necessary to protect their families.
(Original photo credit: Visual Dichotomy. Heavily edited.)