Same-sex couples are destroying marriage? No, I think opposite-sex couples are doing very well on their own, as this series of actual wedding cake toppers indicates. Apparently, marriage is something into which straight men need to be dragged or chained.
(At least one company, Wilton, has a topper featuring a "Runaway Bride"—but for the most part it seems to be the men who need persuading. And in an attempt at diversity (!?), Wilton also offers the "Oh, No You Don't" figurine (the first one below) in an "Ethnic" variety, because apparently anyone who isn't white is "ethnic.")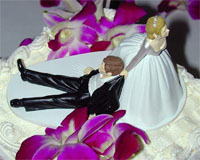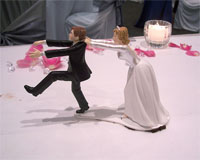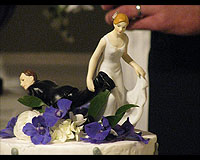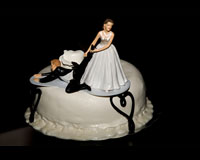 And yes, there are same-sex cake toppers around. Google "lesbian cake toppers" or "gay cake toppers," and you'll get plenty of hits. Many companies also offer separate brides and grooms so you can mix and match gender, ethnicity, hobby, etc. to suit your needs. Funny though—I looked through a bunch of sites in preparing this post, and saw no same-sex toppers that indicated one of the parties needed to be dragged or chained into marriage.
Photo credits: Top row, l-r: Sailor Coruscant; Sebastien Paquet. Bottom row, l-r: Kim Marius Flakstad; nola.agent.