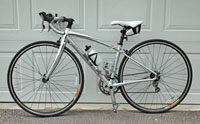 Time for this week's discussion thread. Now that Pride is almost over and the hot weather is upon us, what summer plans do you have for you and your family?
Our son is in a few local summer programs for July, but we're hoping to do family stuff in August, so I've left that pretty open. Our local rec department has a lot of events going on, though, so there will be plenty to do if we get bored. On our own, we'll probably camp, bike, and play tennis. My tennis is weak, but our son has enjoyed the few lessons he's had, so I'm determined to hit well enough to play with him. (Helen played varsity in high school, so she can take us both on at once.) Maybe it's just that I'm used to sports that require major amounts of protective gear—fencing, taekwondo, rock climbing—or that I'm not used to playing sports with balls. (!)
I'm also hugely excited about my new road bike, which at least requires a helmet. (See picture.) I've always biked as ancillary training for other sports, but I'm starting to get into it now for its own merits. (I also have a low-end mountain bike for bumping around trails with the family.)
When we're not being ridiculously active, we'll probably be playing the new LEGO Harry Potter
Wii game, which is just as much geeky fun as you might imagine. (And the fact that we bought it on the first day it came out tells you something about the general geekiness around our house.)
What are you all up to?
I am a member of the Amazon Associates program, and get a small referral fee from all purchases made at Amazon.com via links on this site. You are under no obligation to purchase through them.