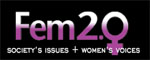 Work/life balance is an issue near and dear to many of our hearts. Achieving that balance can be even tougher for LGBT people, who may have to contend with a variety of unfriendly laws, policies, and attitudes.
I'll be speaking this afternoon on Fem 2.0′s "Work/Life in Our Communities Blog Radio Series" as part of a panel on "Work/Life and LGBT Families: Reimagining Policy for ALL Families in the 21st Century." Thanks to Heather Holdridge and Gloria Pan for the invitation.
I'll be joining Cathy Renna, head of Renna Communications, and Jaime Grant, Director of the Policy Institute for the National Gay and Lesbian Task Force, both also lesbian moms. Good company indeed!
There will be a live chat and tweetup of the event (#fem2 and #worklife), and you can also dial in to participate: (724) 444-7444; Call ID: 74229. I hope you'll join us, despite the short notice.

The show will air 1-2 p.m. ET, but will also be available for later listening. Go here to listen, or try the widget below. (Sometimes it needs a few seconds to load.)