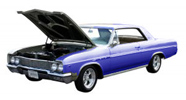 LGBT car-shopper site Gaywheels.com is conducting a major survey of LGBT auto owners. Publisher Joe LaMuraglia told me they're looking for more women to participate, however: "We want to make sure that the Lesbian voice is counted. We'll be presenting this data to all the major car companies and they are really interested. We need the ladies to make sure they are heard!"
The survey takes approximately 10 minutes to complete online. Topline results will be shared with major automotive companies.
Yes, one of the goals is to be able to target advertising at us. But car manufacturers are going to target us anyway, just because we're consumers. Wouldn't it be better if the advertising sometimes showed families like ours? (Always good to remind companies, too, that we're more likely to buy if they're a company with LGBT-friendly policies.)
More details below, from the press release:
Gaywheels.com Launches First Survey of LGBT Vehicle Owners

Partnership with Market Research Firm Sorgenfrei Adds Data Capture Expertise

Gaywheels.com, the sole source of information specifically targeted to and about lesbian, gay, bisexual and transgender (LGBT) car-shoppers has launched the first survey designed to deliver insight on LGBT automotive owners. The study, designed with market research partner Sorgenfrei, promises to shed light on vehicle ownership, brand loyalty and brand imagery among LGBT vehicle owners.

"Since launching in 2005, Gaywheels.com has been the best data source on what LGBT auto consumers were researching," said site founder Joe LaMuraglia. "We wanted to take that to the next level and report on what the LGBT community is actually driving. Our partnership with Sorgenfrei provides the means to undertake such a study".

While the end goal is to ascertain if sexual orientation dictates vehicle ownership patterns, the survey isn't targeted solely to LGBT consumers. "We are actively recruiting respondents of all sexual identities to get a complete understanding of any differences that exist," commented LaMuraglia.