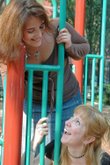 Children's musicians Erin Lee and Marci bring us the next of their regular posts with thematic recommendations for kid-friendly music, plus activities to make the songs an interactive experience for the whole family.
Their first recommendation for this month, in which "Dad and Dan" sing a boy a lullaby, works really well for gay dads, even though it's vague enough that Dan could be an uncle or just a friend, too.
Look for Erin Lee and Marci here on the first Monday of each month, or visit their homepage, www.gottaplay.org.
I've created links to Amazon for the full albums (click the album image or name), plus links to Amazon MP3 downloads, when available, for those who want only the singles. (Click the song name.)
We spend an awful lot of time on the road (we're just back from Chicago!), and that means an awful lot of hotel rooms. It also means different time zones, different beds, and different Going-To-Bed routines which adds up to an awful lot of . . . not sleeping. Even grownups have problems falling asleep some nights. So why is it that lullabies often seem to be for babies? We need lullabies too! So we went in search of some sleep songs for big kids, and here is what we found:
"Moon and Me" (Billy Harley, You're In Trouble
)
When Noah has some trouble falling asleep, Dad and Dan play him a beautiful song.
"Everyone has closed their eyes, it's as quiet as can be.
Everyone will sleep until sunrise, everyone but Moon and me".
It will comfort even the most serious of insomniacs. Oops. . . . It may have worked too well as Dad and Dan are both out cold. . . .
"The Road to Sleep
" (Bonnie Lockhart, Dreams, Drums, & Green Thumbs
)
Folksinger Bonnie Lockhart knows that the road to sleep isn't always an easy one!
"Sometimes I get lost on my way to bed
And think of all the things I'd rather do instead."
So, if there are any moms out there reading this at 2:00 am, it's okay. Put on Bonnie's tune, and know that everything you need to do can be done in the morning. . . .
We have seen both Bill and Bonnie perform live, and they are just as warm and accessible in person as they are on their CD's. We were thrilled to serve with Bonnie on the Board of Directors of the Children's Music Network, and Bill was honored last fall with CMN's Magic Penny Award for his lifetime of work in the children's music business. And the Children's Music Network is where we first heard and fell in love with this next song by Martin Swinger:
"Coney Island Lullaby
" (Martin Swinger, Mockingbird
)
This song doesn't quite fall in our category of songs helping us fall asleep—the truth is, we enjoy it so much that we end up getting a little wound up and singing along with Martin. So, this month we've added a bonus recommendation with its own little category: Lullabies that Sound So Cool that You Can't Sleep at All. Parents, be warned: you will find yourself playing this for yourself after the kids have gone to bed! Parents, also be warned: Martin writes for adults as well as kids, and some of the content on his grownup fare is not intended for children. But this CD, Mockingbird, is perfect for the whole family to listen and dance to together—it's truly a gem.
"Long, Long Day
" (Erin Lee & Marci, Someone's Gotta Wanna Play
)
When the producer of Someone's Gotta Wanna Play first heard this song, she thought it was written for her! She protested "But I've had a long day, and I've torn my place apart, and it's midnight and you're still singing! This is totally about me!" Well, we're happy that she could relate to it, but it was actually written for our young friend Zach, to give him a lullaby that he could grow older with.
So, here's a fun game to do with this lullaby. The words say "Your world and you will grow", and you know you've grown a lot since you were a baby. Get some pictures of your friends when they were babies. Mix all the pictures of up, maybe even put them on a poster board, and try to guess who is who. You can even take pictures of your friends now and try to match them. Have fun!