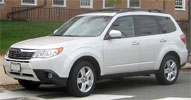 Quick: Name the car brand most often associated with lesbians.
That's right, Subaru, the only car company "with a specifically pro-lesbian track record." Its Forrester was "a lesbian icon from day one," and the company has long been marketing on The L Word.
Next question: Name the only major automaker to post a yearly sales increase for 2008.
That's right, Subaru.
Coincidence?
Well, yes, in a direct sense. I'd like to think, though, the company's willingness to reach out to loyal niche markets, even potentially controversial ones, has helped it squeak ahead of competitors. It's the kind of smart marketing that can make a difference in times like these.