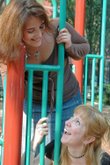 Children's musicians Erin Lee and Marci bring us the next of their regular posts with thematic recommendations for kid-friendly music, plus activities to make the songs an interactive experience for the whole family. Look for Erin Lee and Marci here at their regular time, on the first Monday of each month, or visit their homepage, www.gottaplay.org. (Catch them on the R Family cruise this summer, too!)
I've created links to Amazon for the full albums (click the album image or name), plus links to iTunes for those who want only the singles.
Sometimes our houses get too crowded or noisy and you need your own place – a place where you can go to spend time with yourself. This month's songs explore creating or finding your own special place.
"Hideaway" (Ralph's World, Green Gorilla, Monster & Me
)
This tune reminds us of this important need to check in with ourselves and asks us about where we go to be alone. A very thoughtful, introspective song – yet with a great dance beat and catchy harmonies! We love that. Where do you go?

"The Girl I Mean To Be" (London Studio Cast, The Secret Garden
)
Musical Theatre is full of wonderful songs for kids who have outgrown the preschool standards but still aren't quite ready for Miley Cyrus and her current troubles. The Secret Garden was one of our favorite books when we were young – so the musical The Secret Garden is of course one of our favorite shows as grownups. In this song Mary, the main character, longs for "a place where I can go when I am lost – and there I'll find me," – an idea that will resonate with tweens even if they aren't familiar with the story or the show in its entirety.


(iTunes from Original Broadway Cast)
Our Song of the Month:
"My Treehouse" (Erin Lee & Marci, Snowdance
)
You don't need power tools to build all of the different houses in this tune. The "houses" in our song are built with imagination and inspiration – and the occasional hammer, couch cushion, and bed sheet. Narrators build tree houses, couch forts and bunk bed ships – their own private sanctuaries where they can "read or dream or play", no matter what their "real" house looks like.

Get the song off the iPod and into life:
Do Something New: The narrators in this song use things that are in their homes and pretend that they are other things – like pretending a bunk bed is a pirate ship! Pick an object (a book, a ruler, a ball, etc.) and come up with something else that it could be used as (a book could be a hat, a stepladder or a seat cushion, etc.) Set a timer for two minutes and see how many things you can come up with before time runs out!
Do Something You Haven't Done in YEARS: make a fort!