One in an occasional series of travel essays for families with kids: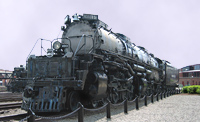 When most Americans think of our National Park Service (NPS), we have visions of forests and mountains, rivers and seashores. Not 1.2 million pounds of iron and steel churning out 6200 horsepower, capable of hauling 120 freight cars over mountains at 40 miles per hour.
Steamtown National Historic Site in Scranton, PA, has just that, however. The Union Pacific "Big Boy" locomotive is only one in their magnificent collection of trains from the days of steam. No little engines that think they can, here. These are big engines that did. I encourage anyone with train-obsessed children (or laying claim to the title themselves) to plan a visit if your summer plans take you near western Pennsylvania. It's approximately two hours from either New York City or Philadelphia.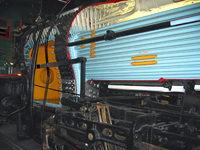 Youngsters will enjoy the enormous roundhouse with its operating turntable and the many trains to climb on and explore—locomotives, cabooses, passenger cars, and freight cars. They may also like the short film, Steel and Steam, which offers a slice of local rail history through the eyes of a young boy who grows up to work for the railway. Those with a historical interest can also ponder the extensive indoor interpretive exhibits. Budding mechanical engineers will want to study the "sectioned" locomotive whose insides are laid bare. Finally, everyone will love rides on the trains. There are short (20-minute) rides suitable for those with young children, and longer excursions for those wishing to see more of the beautiful Lackawanna Valley.
Although the collection at Steamtown existed under private ownership since the 1950′s, it became part of the NPS only in 1986. The main facility is clean and contemporary. There are no dining facilities on site, though there is a picnic area and a nearby mall with food options.
One further tip: Bring a grandparent along and buy him or her an NPS Golden Age Passport. For $10, this gives anyone 62 years or older free lifetime entrance to national parks. In many cases they can get family members or co-travelers in free as well. Steamtown let my partner and myself in free on my dad's pass. (Our son was young enough to get in free, anyway.) Train rides are extra, but only $3/person for the short trip, and still free for the under-fives.
If you want to make a weekend of it, there is a trolley museum next door, as well as several other local museums and tours celebrating the area's coal-mining heritage.